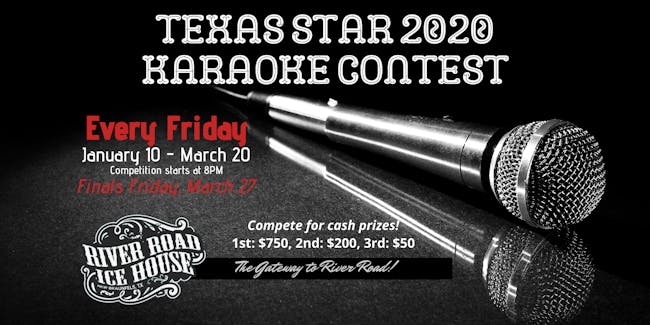 Presented by River Road Ice House
Week 9 - Texas Star 2020 Karaoke Contest
The battle for bragging rights continues! Join us for more karaoke fun every Friday and compete for cash prizes!
Texas Star Karaoke Contest Rules
• Contestants must be at least 21 years of age.
• Previous 1st, 2nd and 3rd place winners are ineligible.
• No entry fee.
• Contest registration form MUST be complete and legible. It can be filled out online in advance or on site starting at 6:30 PM.
• Contestants must check in with the DJ.
• Auditions begin at 8:00 PM.
• Finalists are announced 30 minutes after the last contestant performs.
• The number of finalists will be determined by the number of contestants each night and are subject to change.
• Contestants who don't qualify for the finals may re-register and try again on another night.
• Advancing contestants must be available for final round
• Contestants will sing one judged song.
• No backup singers.
• Friends and family of the judges are not eligible to compete.
• The host, agents and judges reserve the right to declare the maximum number of contestants and close registration at any reasonable point in the night.
• Indicate your song choice and version upon registration. The DJ must be able to locate a digital version of your song or you'll have to choose something else.
• You must use the DJ's equipment.
• Contestants are encouraged to bring as many, family, friends and fans to the Karaoke Contest.
• No foul language or questionable lyrics. Contestants who use vulgar lyrics or perform in an obscene manner will be disqualified.
• This contest is for individuals only (no groups or duets)
• Contestants must be amateurs – no professional musicians, please. If you get paid to perform, you are considered a professional musician.
• Performances are limited to five minutes.
• Any contestant who suffers an equipment malfunction has the option of starting over.
• The order of performance shall be decided by luck of the draw. Each contestant shall put their name in a hat and each name shall be drawn out by the DJ
• Each contestant shall be judged by the following categories. (see scoring point system below)
- Vocal ability
- Presentation & Showmanship
- Audience participation
• Costumes are encouraged.
• Contestants, their family or associates are not allowed to have contact with a contest judge before or during any contest. Contact includes verbal conversations and handshakes.
• Contestants, their family or associates who exhibit offensive behavior during any portion of the contest may disqualify that contestant from further competition.
• Decisions of the judges are final. No arguing with judges is allowed. Any contestant, their family or associates who argue with a judge may be deemed to be using offensive behavior, and the contestant may be disqualified from competition.
Scoring System
Scoring will be based upon a 100-point system.
• 60 Points for Vocal Ability
• 5 Points for Audience Interaction
- Did the singer sing to the audience?
- Was the singer able to get the audience into his or her performance?
• 5 Points for Song Knowledge and Timing
- Was the singer glued to the lyrics monitor?
- Are the words sung at the correct time?
- Correct Lyrics?
• 5 Points for Stage Presence
- Is the singer comfortable performing?
- Does he or she move, dance etc.?
• 5 Points for Appearance
- Did the singer dress like he or she is a winner?
• 5 Points for Song Selection
- Does the song fit the singers vocal range and ability?
• 15 Points for Audience Reaction
- Applause
Contestant Release
I understand and agree to allow my name and/or likeness to be used in contest promotions, including photographs and digital renditions of my performance(s).

I understand the risks involved in participation in the River Road Ice House Texas Star Karaoke Competition. I/we, do hereby waive, release and discharge any and all claims for damages for personal injury, death, or property damage which I/we may experience as a result of participation in this activity.

This release is intended to discharge in advance this location, River Road Entertainment District; their officers, contractors and/or officials, employees, volunteers and agents, from any and all liability resulting out of or connected in any way with my participation in the above activity; even though that liability may arise out of negligence or carelessness on the part of the persons or entities mentioned above.

It is understood that this activity involves an element of risk and danger of accidents; and knowing those risks, I hereby assume those risks.

It is further agreed that this waiver, release and assumption of risk is to be binding on my heirs and assigns. I agree to indemnify and to hold the above persons and entities free and harmless from any loss, liability, damage, cost, or expense which they may incur as the result of my death or injury or property damage that I may sustain while participating in said activity. I hereby agree to indemnify and hold the persons and entities mentioned above free and harmless from any loss, liability, damage, cost, or expense which may incur as a result of the death or injury or property damage that said minor may sustain while participating in the above activity.

I HAVE CAREFULLY READ THIS AGREEMENT, WAIVER AND RELEASE AND FULLY UNDERSTAND ITS

CONTENTS. I AM AWARE THAT THIS IS A RELEASE OF LIABILITY AND A CONTRACT BETWEEN

MYSELF AND RIVER ROAD ENTERTAINMENT DISTRICT, THEIR OFFICERS, AGENTS, OFFICIALS, EMPLOYEES, VOLUNTEERS AND CONTRACTORS; AND I ACKNOWLEDGE MY AGREEMENT AS INITIALED ON THIS FORM IS OF MY OWN FREE WILL.

________________________________________

Signed and Name Printed

_______________

Date

Venue Information:
River Road Ice House
1791 Hueco Springs Loop Rd
New Braunfels, TX, 78132